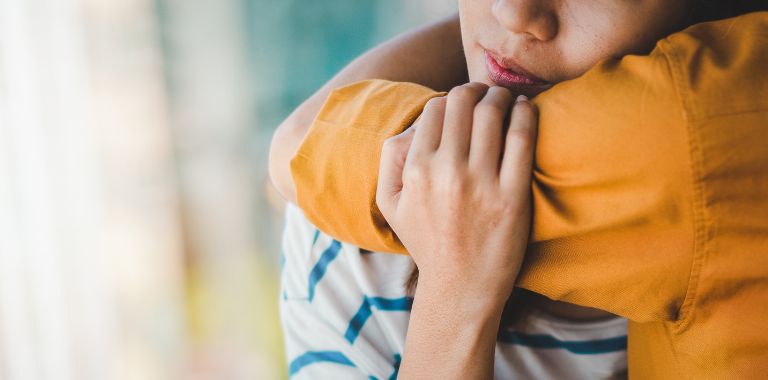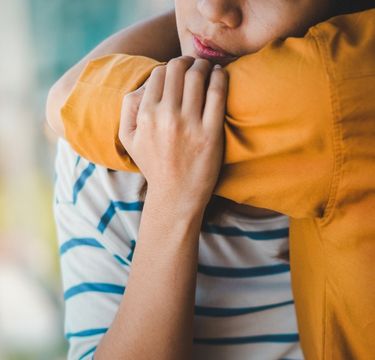 Group & Business
Beyond insurance: The mental health ecosystem of UNIQA
●
02.12.2022
●
4 minutes reading time
Advertising campaigns can open up and encourage dialogue about mental health. Read more about a successful campaign by UNIQA Czech Republic and Slovakia. 

The COVID pandemic has changed a lot in people's perceptions. Isolation, online school and work, stress from uncertainty and worries for the future. All this has contributed to the fact that mental health has deteriorated and become a big topic. 
At the same time, UNIQA Czech Republic and Slovakia was looking for a tropic that would differentiate the company from the competitors, be authentic and in line with the new strategy UNIQA 3.0 of going beyond insurance.
What do the surveys say?
Fifteen percent of Czechs suffer from mental disorders. In Slovakia, one in 10 people have been diagnosed with a mental illness and a quarter of people have someone like that among their loved ones. But both countries have one thing in common: Up to 85 % do not seek professional help because of the underlying stigma.
According to the WHO, depression will soon become the second most common cause of sick leave in the world. Statistically, people with mental illness die 20 years earlier than the general population. It is estimated that mental illness costs up to four percent of the world's GDP, more than cancer, diabetes and chronic respiratory diseases combined.
The figures clearly show that it is not only an important topic for the public but also a topic that should be addressed by an insurance company.
Mental discomfort is often not seen
In 2021 we focused our image campaign on the destigmatization of mental health and communication of the unique services and coverage that UNIQA offers in this area.
Following the idea that mental discomfort is not visible,  we showed a situation from everyday life but from two different perspectives: How a healthy person sees it and how a person with mental health problems experiences it. To make the message even bolder we used  our sport ambassadors, Alpine skier and Olympic champion Petra Vlhová (SK), who was feeling exhausted after a difficult and stressful season, and Olympic champion in rowing Ondřej Synek (CZ), who was going through burnout at that time.  

We addressed the topics of burnout, depression, bullying and exhaustion.
The campaign produced excellent results.  We succeeded in increasing brand awareness, but more importantly also the relevant set and the intention to buy of the target audience. In Slovakia, 49 % of the respondents stated "It is necessary for other companies to pay more attention to the topic as well" and 29 % agreed "It increases the credibility of the insurance company". In the Czech Republic, the campaign was also positively perceived, but we needed more time and more intensive communication to adapt to this taboo topic. 

The mental health ecosystem of UNIQA SK/CZ
The campaign alone would not be a sufficient proof that we are serious about the topic. We created our own ecosystem around the mental health topic. We introduced four pillars: Products & services, Internal communication & activities, CSR and Campaign & external communication. Based on these pillars, we created content which we communicated internally and externally.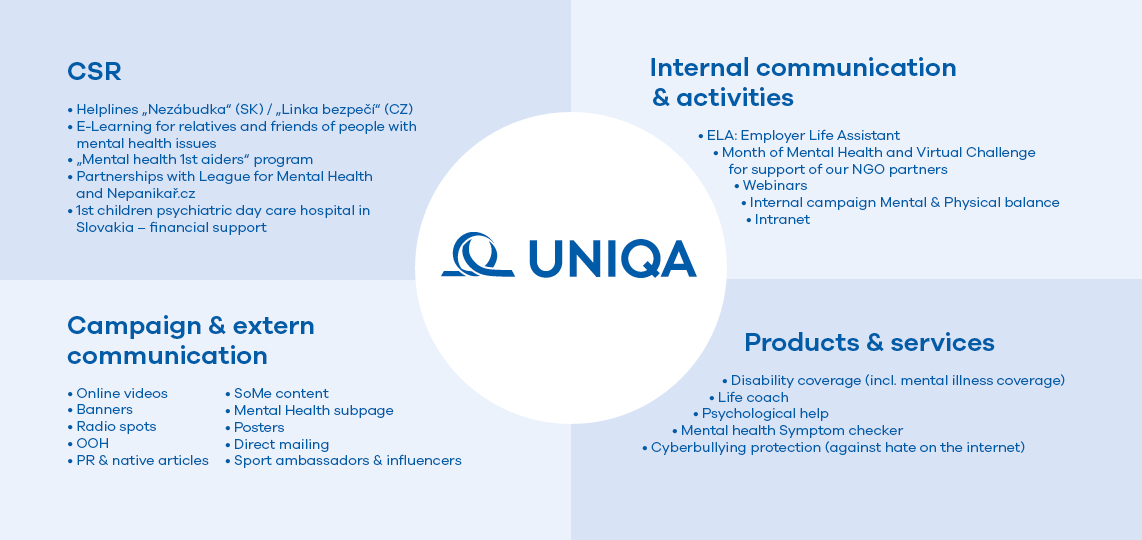 To be more reliable and have ownership of the topic, UNIQA has established strong partnerships with mental health professional organizations. In Slovakia with the League for Mental Health and in the Czech Republic with the National Institute of Mental Diseases. As psychological and psychiatric help is difficult to access, we financially supported a helpline to provide a 24/7 help for people in need.
We organized webinars for our employees, introduced the Employee Life Assistant covering psychological helpline and launched an internal mental wellbeing campaign including tips on how to handle everyday mental health problems. 
Next level
In 2022, we looked again at our mental health ecosystem and started with a review of our products and services. Within all our life insurance we have a unique disability coverage (including mental illness coverage). Furthermore, we have special services like consultations with a life coach and a psychologist, newly developed mental problems symptom checker (not only for clients). We also offer cyberbullying protection against hate on the Internet.
With these services, we cover our core business and services beyond the insurance and client expectations. But we also needed to extend a third layer, namely services for a better life and world around us.  
CSR
In cooperation with the League for Mental Health, we introduced two unique projects for Slovakia and Czech Republic:
E-learning for relatives and loved ones of those with mental health problems. It helps them to recognize mental health problems, gives information how to talk about the issue andhow to help their loved ones  
Mental health first aiders program – we succeeded in getting a license for Czech Republic and Slovakia. The program is focused on training of volunteers in mental health first aid. It is expected to be launched at the end of 2022.
We also supported the building of the first psychiatric day care children hospital in Slovakia. In the Czech Republic, we entered into new partnerships with mental health NGOs –  helpline Linka bezpečí (Safe line) and online portal targeting young people with mental problems Nepanikař.cz. (DoNotPanic.cz)
The new campaign
Encouraged by the first positive results of the mental health campaign and communication, we decided to take it one step further in 2022.  Looking at the new UNIQA 3.0 brand positioning, we understood that we need to move from caring to empowering, from mentoring to coaching, building on stability and security but also shifting to the openness for change positioning. 

We based the campaign concept on the fact that people are afraid to talk honestly about their mental state and when asked 'How are you?' they usually answer with 'Fine' even when they're not. We have therefore developed a new empowering communication concept 'Start talking honestly about your mental discomfort. Take the first step.'

Our sports ambassadors, ski racers Petra Vlhová in Slovakia and Martina Dubovská in the Czech Republic, became the faces of our campaign. To increase our credibility, we have included the logos of professional partners in the campaign.
A well-known personality attracts attention. But our goal was to show that we understand people's problems and help them take the first step in solving them. That is why we created a spot with an ordinary person who is easier to identify with.
Petra Vlhová and Martina Dubovská will gradually be joined by other UNIQA ambassadors and selected influencers who are authentic about the topic. They will act as our brand spokespeople on social media as well as traditional media on the topic of mental health.  
Our headlines and messages were simplified for the key visuals purposes. Simply "Talk honestly. For better mental comfort". The whole campaign is leading to our mental health subpage, developed to guide the visitor easily and clearly through the first steps in mental health journey.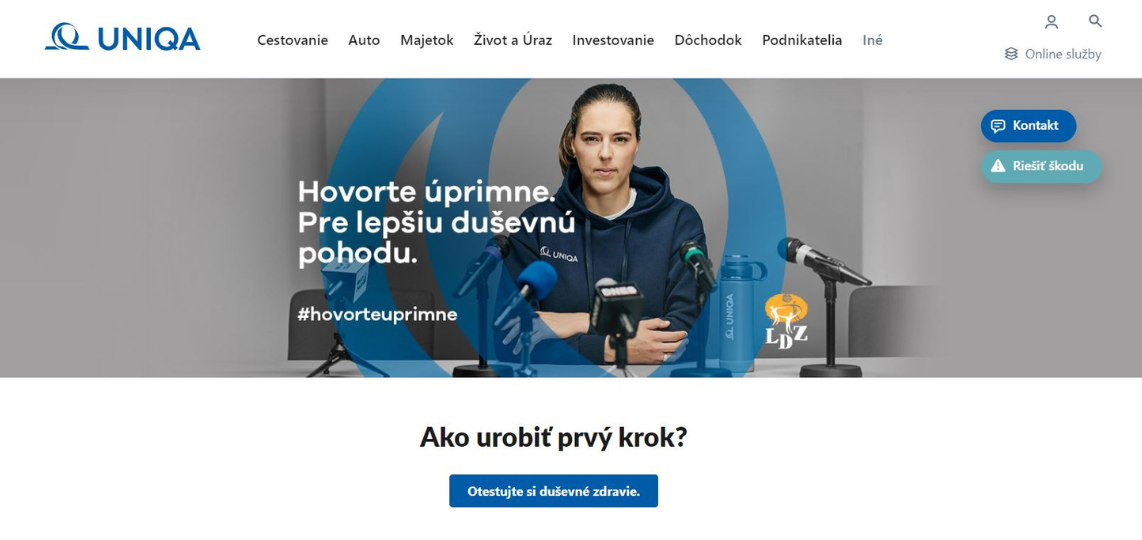 Mental health subpage
The content of the subpage is organized into three steps: First, users are directed to the symptom checker along with information on how to handle the most common mental health problems. Second, there is an e-learning for families and friends of people with mental health issues as well as a guiding video and content compiled by a health care professional on how to start talking about mental health. In the third step, users can find a list of all UNIQA services and insurance coverage in the field of mental health as well as services and help provided by NGO partners of the campaign. 

In case of emergency there is a number of a 24/7 helpline provided by our mental health NGO partners. 

Find out more at www.uniqa.sk I www.uniqa.cz