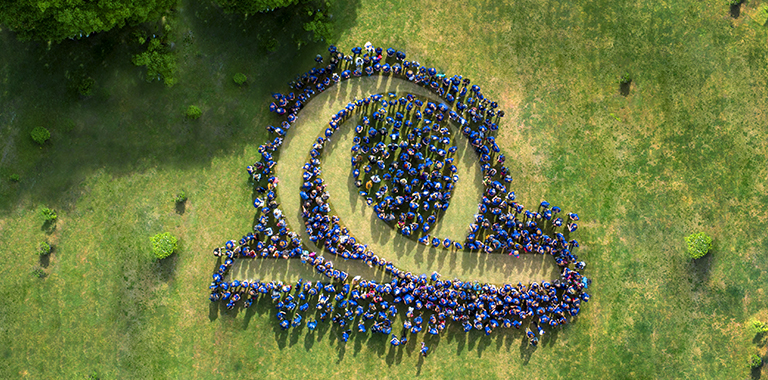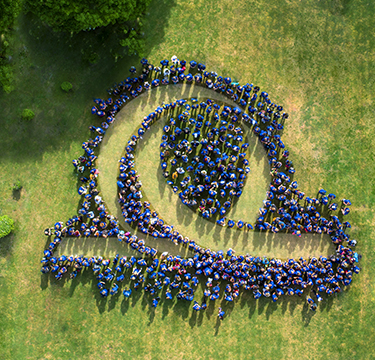 Group & Business
One brand, many languages: How a claim connects
●
26.09.2022
●
3 minutes reading time
Living better together. Three simple words, one can say. So why it should be difficult to translate, or shall we rather say, transcreate them?

How to take the essence of the brand message so that it shows strong connection of UNIQA to the community but still respects the cultural nuances of the target market? Each word of the claim needs to work hard to convey the meaning. Moreover, the creative translation must respect the specifics of a particular language, meaning it should be appropriate for a specific culture and also look good visually.  
Before introducing a new brand claim, a series of legal procedures is necessary in order to register it at the respective institution. Numerous other aspects also need to be taken into consideration: Moral norms need to be considered. A brand claim cannot exclude or offend anyone. In order to have a unique approach, a thorough research of competitors is advisable.  
To mark this year's European Day of Languages, we asked our colleagues from international markets what challenges they were facing when translating the UNIQA claim into local languages and how they bring it to life in their daily activities.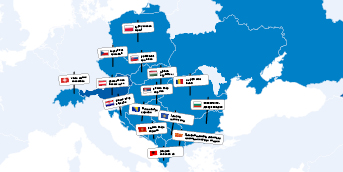 Our current claim "living better together" does not sound business-oriented. What activities, approaches do you plan to translate it into relations with our customers? 
Poland: A brand claim does not always need to have business overtones. Especially when we are talking about services. It's a brand promise that can also relate to emotions. In the case of "living better together," there is no conflict, the slogan responds to different needs, it sounds just as good in product campaigns as in image campaigns. 
We have introduced the iUNIQA platform created in cooperation with housing associations and property managers. Thanks to iUNIQA, customers can contact us faster and more conveniently. An important function of the platform is the reporting of claims. The app also sends warnings and weather reports. 
Albania: During October and November, as part of the breast cancer awareness, we plan to deploy the UNIQA SIGAL Vital Truck Tour to several remote cities in Albania. Under the headline "Better Prevent than Cure", the clinic will offer free health check-ups for citizens. 
We will also promote UNIQA SIGAL Audiobooks. These free books in Albanian are promoting education, culture and the Albanian language. They also help the blind people and Albanians outside Albania who want to read and teach their children the Albanian language. 
What do you see as the biggest challenge in translating English texts when communicating headlines and messages for customers in your local language? 
Poland: Our overriding aim is to communicate with customers in a simple and understandable language. Hence our "Prosto po Polsku" (Plain Polish) programme, which we have been running for many years now. For this reason, we also try to translate foreign language phrases. In addition, we often consult linguists to find the appropriate expression for the meaning of a foreign-sounding word. 
SEE countries (Bulgaria, Bosnia and Herzegovina, Croatia, Serbia, Montenegro): The biggest challenge is always to translate a message that sounds great in English into the local language, while being original, easy to remember and "getting into the client's ear". The literal translation of claim does not work in Croatian, so we had to translate "living better together" as "živimo bolje zajedno", which literally means "we live better together". A good claim must complement all other elements of the brand: graphic design, the emotional value, the characteristics of the brand, and it must be applicable on different materials and support different communication goals. 
Romania: Translations from English into Romanian usually result in more words and text to fit into visuals or templates. Another challenge is related to the semantics and the specific issues from our cultural and social environment. For example, "living better together", when translated literally, is collectively associated with an election campaign of a former Romanian president. 
What do you see as the strongest aspect of the claim which your customers or the audience could currently connect to UNIQA brand in your country? 
Poland: Our campaign and educational activities related to the problem of online hate speech are the strongest link to our claim. As part of the "Masz moc na hejt!" programme, we not only offer innovative, first-of-its-kind insurance against online hate speech, but also educational workshops for children, teachers and parents.  
In addition, the Insurance Market Monitoring Study, which is compiled by the research institute Kantar Polska shows that UNIQA is increasingly described by customers as a company that speaks a language that is understandable and customer-friendly. 
Albania: The claim itself is a promise for a better life. We must ensure that it will not only remain an expression but will be filled with actions. In Albania, we have launched new products that enable customers to receive medical services more easily, such as the "TeleShëndet" application. SIGAL UNIQA Albania was the first on the market to offer the service of Road Assistance. However, our strongest asset is UNIQA SIGAL Vital Truck. Since 2015 we truly have been making it possible for people to have a better life by offering them free health check-ups in the most remote areas of Albania where such service is still missing. 
SEE countries: The claim's strongest trump card is the factor of community, togetherness that promises a better life. It's not the "we" that matters, and we don't speak to clients from above, promising them superiority, but we know what it's like to walk in their shoes and how we can be a good companion for them. If the claim takes hold and people recognize that message, then we can assume that they were able to identify with it, because in these times they need someone they can rely on in every life situation.