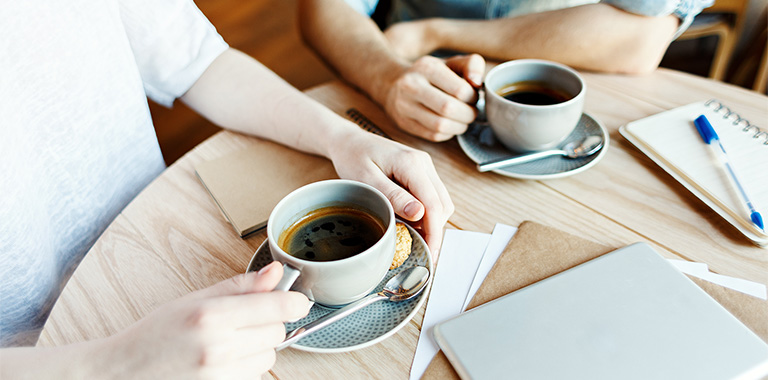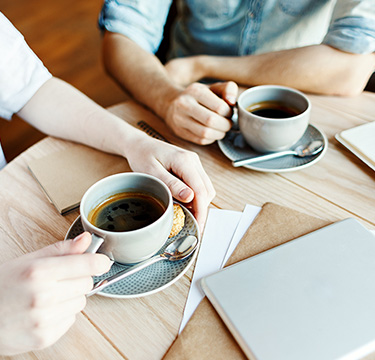 People at UNIQA
UNIQA personally and digitally: A virtual coffee with Alfred Vlcek
●
12.07.2021
●
4 minutes reading time
Do personal advice and digital services contradict each other? What do our customers want? Together with Alfred Vlcek – who has turned his vocation into a profession – we have had a closer look at these questions. We invited the new UNIQA Regional Director, Vienna, to a virtual coffee.
Alfred has been with UNIQA for more than 20 years and has been able to gather a wealth of experience at home and abroad during this time. Whether in Hungary, Romania or Burgenland, his heart always beats for the business: for his customers, and for the people around him that he manages – his employees.
Today Alfred is regional director in Vienna, the largest regional directorate in Austria. He previously held this position in Burgenland.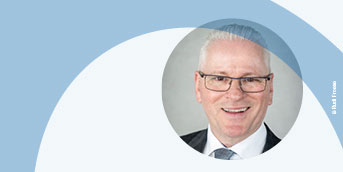 Learning is a job for life 
In a single stroke UNIQA was forced to change its business operations as a result of the corona pandemic. 'Overnight, all employees could only work from home, a challenge we mastered brilliantly', says Alfred Vlcek with pride. 'In this experience lies a very valuable learning opportunity that needs to be exploited', he continues. 
What exactly have we learned from this crisis? 
Increased confidence: The sudden and necessary changes to our thought processes initially brought with them a great deal of uncertainty. 'Now, after a year and a half, we see how everyone did a good job although life was turned upside down from one day to the next. This has increased our self-confidence – and our customers can feel that. They know that we are there for them also in difficult times', says Alfred happily. 
Adaptation: An external event required UNIQA to adapt quickly to the unfamiliar situation. 'Now we know we're good at it. UNIQA is undergoing an important transformation and this experience helps us to boldly pick up on impulses from within and implement our ideas. Success lies in action. It is important to us to signal to our customers that we are a reliable partner even in turbulent times and that we are constantly working to improve', emphasises Alfred. 
Best together: Crises are a particular reminder of how much easier they are to overcome when working together. 'Basic human values are brought into sharp relief', Alfred knows, and 'we all manage to master life better when working together'. UNIQA has firmly anchored this philosophy of 'living better together' in the company's DNA. 
Digital, but not just 
When we ask Alfred if customers want to be able to contact UNIQA around the clock, he immediately replies 'Yes, of course. This is also very easy to achieve with our digital tools because personal customer contact and the digital possibilities are inseparable' Depending on needs, sometimes one and sometimes the other will be used. Whenever customers want to contact UNIQA outside of business hours because they have an urgent question, the doors of the myUNIQA web portal and the myUNIQA app are open. With the new loyalty program myUNIQA plus, we are now brought even closer to our UNIQA customers. 
It's getting personal 
Alfred explains where he sees the limitations of 'self-service': 'Where it reaches into the private and personal sphere. For example in the event of illness or an accident our customers need to sit across from someone with compassion and understanding. But even when it comes to more complex insurance solutions – let's take family expansion and building a house as an example – then UNIQA consultants are in demand. We see this in customers of all ages, including the 'young ones'. Although the prevailing opinion is that young people only prefer digital solutions, here we see little difference in the insurance business compared to other age groups. In contrast, travel insurance is something both women and men today only think of taking out online.' 

When is advice good advice? 
'Oh, that's easy', smiles Alfred. 'When our customers are satisfied and they feel they are in good hands. When advice goes beyond the product and we accompany people and help them in a wide variety of situations. The crowning glory is of course the recommendation – then we have done everything right! That's why we're so pleased about the award we received just a few weeks ago: the Recommender Award for best customer service.' 
The customer journey of tomorrow 
With their smartphone at the ready consumers can now easily and quickly carry out many of their own needs. They have become 'hybrid' – and that's how consumer products have to be today also in the insurance world. 'That's where we want to go', explains Alfred Vlcek, 'to offer a variety of solutions that are as transparent as possible so that our customers can quickly and easily choose how they want to take out their insurance.' 
How does the journey continue when an accident actually happens or UNIQA customers have questions about their insurance? 'It is definitely fast and reliable', replies Alfred. 'I'm a fan of very short distances when a customer contacts us. Ideally, there is always only one contact person for each customer, who then ensures that everything is taken care of. We still have a long way to go, but we are currently working intensively on this service experience!'
One step ahead 
For the next few years UNIQA has set itself the goal of further expanding the service world for everything to do with insurance solutions, but also for non-insurance related issues. 'Exactly, and that means looking ahead', says Alfred. 'What makes life easier for our customers? We offer help where our customers don't expect it. That way we will have taken care of the extras and are as such living our vision of TOGETHER FOR A BETTER LIFE.' 
What makes life easier for our customers? We offer help where our customers don't expect it.
The best experience from last year
The past few months have been very demanding for people in all areas. Alfred explains: 'I regularly maintained contact with customers and employees alike, and everyone were so appreciative about it. That touched me deeply. I am impressed with how considerate with others and careful with themselves my team in Burgenland has been. I really appreciate this high level of personal responsibility. I am also very proud of the tireless efforts of our employees who have worked on site in the admissions office throughout the entire year of the pandemic. The team spirit has gotten us through the crisis.'
Alfred in private
Now we ask Alfred how he likes to spend his free time. He laughs and says, 'I like to have people around me and I love having good conversations. That is what fascinates me so much about my job and that is why I am connected to UNIQA with my heart and my soul. To relax I spend a lot of time in nature and do sports. That keeps me mentally fit. But I can also be wonderfully lazy and then have to motivate myself to do my best again.'
Dear Alfred Vlcek, thank you so much for this back-stage glimpse into UNIQA sales – and what you burn for!