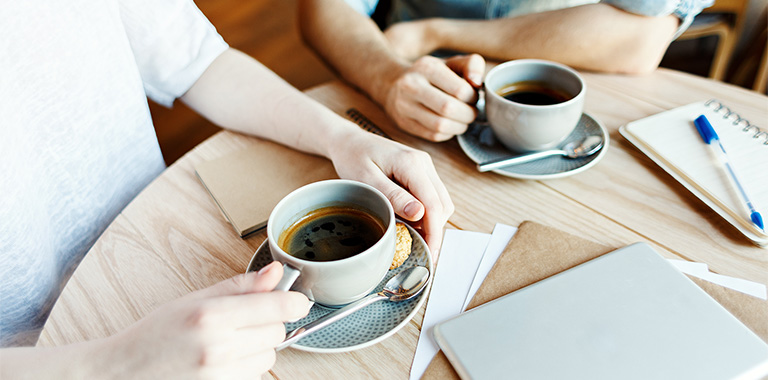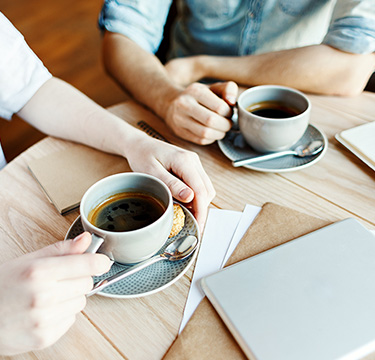 Innovation
The future of customer service is hybrid: A virtual coffee with Barbara Liebich-Steiner and Hans Christian Schwarz
●
03.11.2021
●
5 minutes reading time
Customer advice in person or virtual – Hans Christian Schwarz, Head of Retail Austria and Barbara Liebich-Steiner, Head of Digital Strategy & Solutions, on the importance of online platforms and self-service, myUNIQA success numbers, and bundle insurance as the key to the young target group.
Where is UNIQA presently in the digitalisation process?
Barbara Liebich-Steiner: UNIQA is in the middle of a far-reaching transformation process, and in this context we are rapidly progressing in digitalisation. We are currently in the process of partnering our sales and digitalisation in a hybrid network. This is also what the term 'omni-channel journey' stands for: it means we are seamlessly interlocking these worlds. Whether UNIQA communicates with customers on the phone, via the myUNIQA web portal, the myUNIQA app, or in the consultation room of a branch – it's all the same. These different channels are not opposites but work together and support each other.
Hans Christian Schwarz: Strategically, we are pursuing the clear goal of offering our customers both worlds – the digital and the personal. Online portals and offline advice are the two gateways into these worlds. For this we develop the necessary tools that enable the consultants to cultivate the customer relationship in one way or another.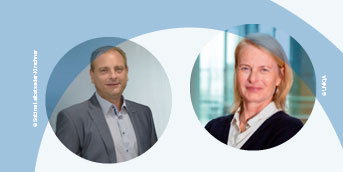 The digital presence in the outside world is more important than ever – what innovations are planned for the near future?
Barbara: At the moment we are concentrating particularly on expanding the self-service side for our customers. Safe, comfortable and ease of use is our top priority. With myUNIQA, we have installed a portal and an app that around 20 percent of our customers now use regularly. Or, viewed differently, the same customer visits our web portal more than three times a month or uses the myUNIQA app. 58 percent of all submissions in health insurance are made via a web portal or app. These data are remarkable and at the same time show us how important these channels are to our customers. To keep it that way, we are constantly adding new features that make life easier. 
Hans Christian: Speaking of facilitation – this also includes the electronic mailbox for the transmission of documents and the electronic signature on the customer's laptop or smartphone. In recent years, we have created the technical prerequisites for electronic signatures in all relevant lines of insurance, and that has been particularly beneficial to us during the pandemic. In the first three months of the crisis alone, we have registered the electronic signature more than 70,000 times – a wow effect, as our customers reported back to us.
Barbara: From November 2021, every logged-in myUNIQA user can use the UNIQA Messenger – of course GDPR-compliant – and communicate with customer service or exchange files. Screen sharing is then also possible. With Messenger, we are installing a modern and secure communication tool in both the myUNIQA web portal and the app as a replacement for the conventional contact form or phone calls. In 2022, the messenger will also be available for sales staff to communicate with their customers.
In December 2021 we will launch the 'digital inventory'. Our customers can upload all insurance-related photos, bills included, to this digital myUNIQA storage space. Everything that might be needed for insurance issues is thereby collected in one place. A new customer contact point has also been created for our advisors which they can use to draw their customers' attention to uninsured belongings.
The next expansion stage will be a virtual meeting room in which a consultation can take place before customers meet their consultants face-to-face. Online completion is of course also an option. We have learned one thing in particular from the pandemic – the option of virtual communication is essential. 
Exactly how do you want to make life easier for customers with the myUNIQA app? 
Barbara: We have made it our task to accompany our customers throughout their lives – not only with insurance solutions, but also with additional services. As I said, the focus for the next few months is the self-service expansion. In the next six months we will add an additional range of services to the myUNIQA app, which our customers can access around the clock. These include, for example, the green insurance card, and vital services that you can book or call up directly, and much more. 
At the same time we are constantly working on smaller, new features, such as an insurance game – an online game especially for young customers to create awareness of what insurance means. Those who are interested can together with family or friends learn in a playful way about risks and how to protect themselves from them.
UNIQA has a strong sales network throughout Austria – what about their digital presence there? 
Hans Christian: The external digital presence also includes the websites of our general agencies which we are standardising for the first time in the large-scale project MeGA – Meine Generalagentur [MEGA – My General Agency] and equipping with many functionalities. One of them, for example, is the possibility of assigning electronic inquiries directly to our general agencies. The first 27 general agencies throughout Austria are already connected to this platform, and by the end of 2022 there will be around 250. 
But we are going one step further and are planning to connect our employed sales force and the regional service centres this spring (2022). Every service centre has the opportunity to present itself and the sales staff digitally and to transform online inquiries into leads and further business. 
Digital versus in-person advice – can this be combined in practical terms in everyday work?
Hans Christian: That is exactly our task, because it reflects the expectations of our customers. We all know how and love switching between these worlds at will, be it for purchases, inquiries or the interests we pursue. Today's customers are in a way 'hybrids' in their lifestyles, and UNIQA is responding to this. 80 percent of those interested in insurance still go online to find out more – and then come for a personal consultation. We believe that this will change over the next few years. Not one or the other version will survive – both are equally important – and that is our strategy. Our consultants are given the tools to be able to maintain their customer relationships online – or in person. We exist both regionally and digitally and, in the course of ongoing further development, make a number of contact points available to pick up customers in accordance with their wishes.
Not all customers are internet savvy – do they have to accept that they are at a disadvantage?
Hans Christian: No – UNIQA customers can at any time choose whether they prefer to be looked after in person or online. Using both options is also possible. Using only personal contact still works today, but we see the desire for this as stagnating in the long term. It is important to us to meet all customer expectations while always keeping an eye on changes in purchasing behaviour. We therefore also promote the digital connection to UNIQA in our customer loyalty program myUNIQA plus.
Even if service in the future can mean being connected to customers in a video chat or in a virtual consultation room, there is always a personal advisor behind it.
Is digitalisation pushing classic sales channels into the background?
Hans Christian: Customers need personal service, especially in product lines that require a lot of advice, such as personal insurance, but also in the case of more complex property insurance. That is why we are expanding our local advisory network even further. Even if service in the future can mean being connected to customers in a video chat or in a virtual consultation room, there is always a personal advisor behind it. The conversation is and remains an important part of the consultation and forms the basis for our hybrid concept. Jumping seamlessly from one world to another at any time is the cornerstone of our promise that 'UNIQA is digital and regional'. 
Digital offers and solutions are generally attractive for young target groups. However, insurance is perhaps not at the top of young people's wish lists. How does UNIQA plan to reach them?
Hans Christian: On the product side we are currently working on two packages – one is intended more for urban areas with basic accident and household insurance, the other more for rural areas with motor vehicle and small-scale life insurance. We also want for the first time to support the younger target groups in particular with our new customer loyalty program myUNIQA plus with lower entry criteria and a higher no-claims bonus.

For UNIQA, however, something else takes precedence. Risks such as accidents, illness or pension gaps hardly exist in the minds of the younger generation. These issues are not yet relevant. Here we see a social responsibility to create awareness in young people for the future.
For example, we recently conducted a study to find out how adolescents and young adults see the topic of pensions, security or gender pay gaps and pensions. We plan to discuss the results with young people and bring them closer to these topics in this way.
How digital are you privately yourself?
Barbara: This question makes me think of my wedding on 1 January 2000 in Hawaii. At the time I planned the wedding digitally from A to Z and everything worked wonderfully. I've been digital for a very long time and I like to use the many possibilities that make my life easier, for example a digital shopping list that we share in the family. I also book sports events online or watch them directly online. Of course, digital communication options are also part of my daily life. The affinity for it has a lot to do with my job.
Hans Christian: I feel like I'm very digital, though my two daughters would probably see me as a digital dinosaur. Because I'm a big music fan, I really like using the wide range of music offers online. I am also passionate about classic cars. That's why I always want to be up-to-date and know what the market currently has to offer. I have set up a search function for this very purpose which always keeps me up to the minute. One daily routine is also reading the newspaper online and using shared lists for shopping and holidays in the family.