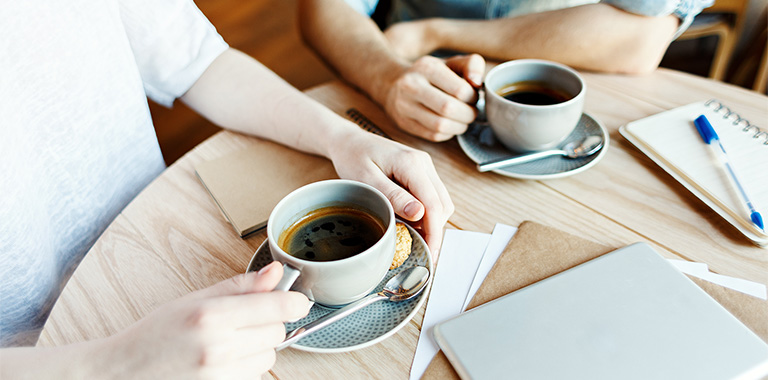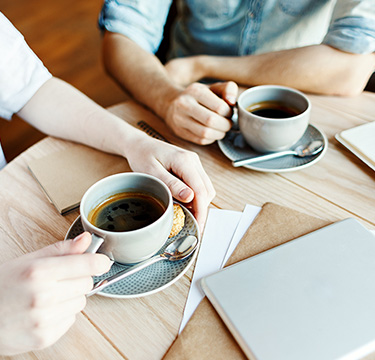 Group & Business
UNIQA in the home office: A virtual coffee with Ursula Gessl
●
15.03.2021
●
2 minutes reading time
For over two years now, most UNIQA employees have been working from home. What are the biggest challenges, what does UNIQA take away from this phase and what's next? We met Ursula Gessl from Human Resources Development for a virtual coffee and asked.
As a staff development employee, Ursula's main tasks are in executive selection, talent development and coaching. When it comes to driving ideas for employees at UNIQA, she knows the drill. The occupational psychologist introduced workplace health promotion at our company, increased the compatibility of work and family with UNIQA Children's Days - and founded a choir!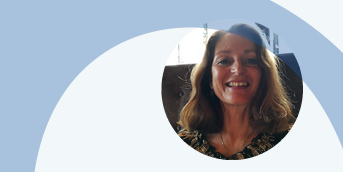 Home office and its challenges
The Corona pandemic presented UNIQA with a whole new set of challenges. As of March 16, 2020, thousands of employees were suddenly working from home - and for the most part are still doing so. For Ursula herself, this "worked amazingly well, even had its advantages," but she also knows the problems: "You lose track of time, miss structure and the team, and have to be careful that home doesn't become blurred with work." 
Among the employees, there are 3 groups, so to speak, according to Ursula:
One extreme: "This is the best thing that has ever happened to me and I only want to work like this!" 
The other extreme: "I'd love to go back to the office tomorrow!" 
The large group in between. 
"Everyone has their own private situation," Ursula knows. "Some have children at home or live alone, these groups have special needs. So for us, the big question is: How to reconcile different desires?" 
A first step was to make it as easy as possible for everyone to work from home: "UNIQA has supported employees with laptops and in the purchase of materials. A dedicated crisis team answered questions and provided regular updates on the situation to keep everyone informed. And as soon as the first lockdown was over, we didn't stop with home offices. Instead, there is a rotation system, lockdown and infection situations permitting: Divided by Two and Divided by Four allow half or a quarter of a department to get a taste of office air again. Naturally, this is done under high security conditions, such as regular fever checks. And very important: All this happens voluntarily. No one is forced to come into the office."
Within a few days and weeks, we have undergone digital training to an extent that would otherwise have taken years.
Digital work
The sudden departure to the home office has had a number of effects. On the one hand, there is the sudden digitalization: "Each of us has become digitally fit," Ursula is enthusiastic, "within a few days and weeks, we have undergone digital training to an extent that would otherwise have taken years."
Mutual help has been particularly important: "The digital toolbox has become much bigger. Video conferences will certainly be more frequent for us in the future, business trips possibly less. Even assessment centers and training courses will probably take place increasingly online," Ursula suspects.
The home office has also become an involuntary experiment in agile working, because UNIQA employees had to learn the concept quickly. And where some managers were previously unsure of how much control was necessary, the home office has impressively shown "that trust in the employees proves its worth. In the meantime, the opposite question is even being asked: do UNIQA employees possibly work too much in the home office?"
Virtual chatting hours
Home office time has given rise to creative projects that have the potential to outlast the pandemic: For example, the virtual coffee break, which allows employees across Austria to get to know each other and have a coffee together. This creates sustainable networks, beyond department and location. Lunch & Learn works in a similar way: Via MS Teams, anyone who is interested can immerse themselves in the working world of another department. "The inventive spirit has kicked in," sums up Ursula. Another example is the Healthy Quarter Hour - 3 times a week, UNIQA VitalCoaches offer a joint moving break for employees, live via video telephony. The concept has been well received, with 123 people taking part at the start alone.
The conclusion about the home office?
Ursula's conclusion after more than a year at home: It's not always an easy time, but it unlocks a lot of potential. What's next? "We are still mostly in the home office. After the pandemic, there will be more home office opportunities than before," Ursula is sure, "because the unintentional experiment turned out well." Ursula doesn't think much of extremes, however: 100% home office will probably not be an option. An obligation to work from home in order to save office space, however, would also not fit in with the corporate culture. Instead, there should be more flexibility. Ursula aptly sums up the trade-off: "People need commitment and freedom." Those are nice closing words: Thank you very much for your time and for your commitment, dear Uschi!