The annual International Women's Day draws attention to equal rights and equal opportunities for women. The topic is also highly relevant for UNIQA. However, the Austrian sales force is still predominantly male. Women in particular have excellent prospects in this area – as illustrated by a survey among female employees both inside and outside Austria.
At 57 percent across the group, the proportion of women among all employees at UNIQA is very high. However, a different picture emerges in the Austrian sales force: women are clearly underrepresented with only 20 percent of women employed exclusively in sales. However, since retirement is coming up in the next few years for around a third of the employees in the field service, it will become increasingly important to make this profession attractive to junior staff, and especially women – both to strengthen diversity and for economic reasons.
Birgit Wastl, Head of Exclusive Sales: 'The topic of insurance sales is currently undergoing a much-discussed change – we also have to demonstrate this change and this flexibility to our employees and partners. Then nothing stands in the way of UNIQA positioning itself as an attractive partner for women in sales.'
That sales per se is not traditionally a male domain is evident from the UNIQA countries in CEE: Here, the proportion of women in sales is 62 percent.
Great progress, but there are still obstacles
Waltraud Rathgeb, the only female country director, also proves that women can make a career in sales: she represents a kind of 'role model' for all women: 
'I worked at UNIQA in management positions in operational areas for more than 30 years, then the opportunity came up to take over the management of the Salzburg regional office. A completely new challenge, a new team, sales activities and the opportunity to learn a lot of new things and get to know a lot of people – yes, all of that appealed to me. All of the male state directors that I already knew accepted me into their group without any fuss – every single one offered me their support. I found an excellent team in the Salzburg regional office, which I work very well with on an equal footing.'
Despite this encouraging example, there are still reasons that prevent women in Austria from pursuing a career in sales. Do they get in their own way by underestimating own skills, or does the field service with its irregular working hours and travel requirements make it difficult to combine work and family life?
Julia Schmeisser, Pension & Risk Advisor, LD Salzburg: 'Basically, only narrow-mindedness and the fear of new things keep women from taking up a job in sales. Many picture a man in a suit when they think of insurance agents. If they would just drop that, then nothing can stop them from pursuing this career path.'
Erika Kammerhofer, Regional Manager, LD Styria: 'Because insurance was historically a male-dominated topic, there are still fewer women in sales. Many customers and executives expect more from women than from men. The truth is: women are very well organised, are often very knowledgeable about their subject and can often empathise better with a customer's situation and thus give better advice. But it is also true that many women in sales are less self-confident than their male colleagues.
Birgit Wastl: 'The general image of the "insurance advisor" is currently still predominantly male and, in my opinion, follows an absolutely distorted representation. Insurance sales is an exciting, very dynamic working environment. It deals with great and above all useful products, and at the same time gives you the opportunity to act very independently and flexibly. The current task in recruiting new employees is therefore not only to make the advantages of insurance sales appealing to male employees, but also to increasingly win over more women.'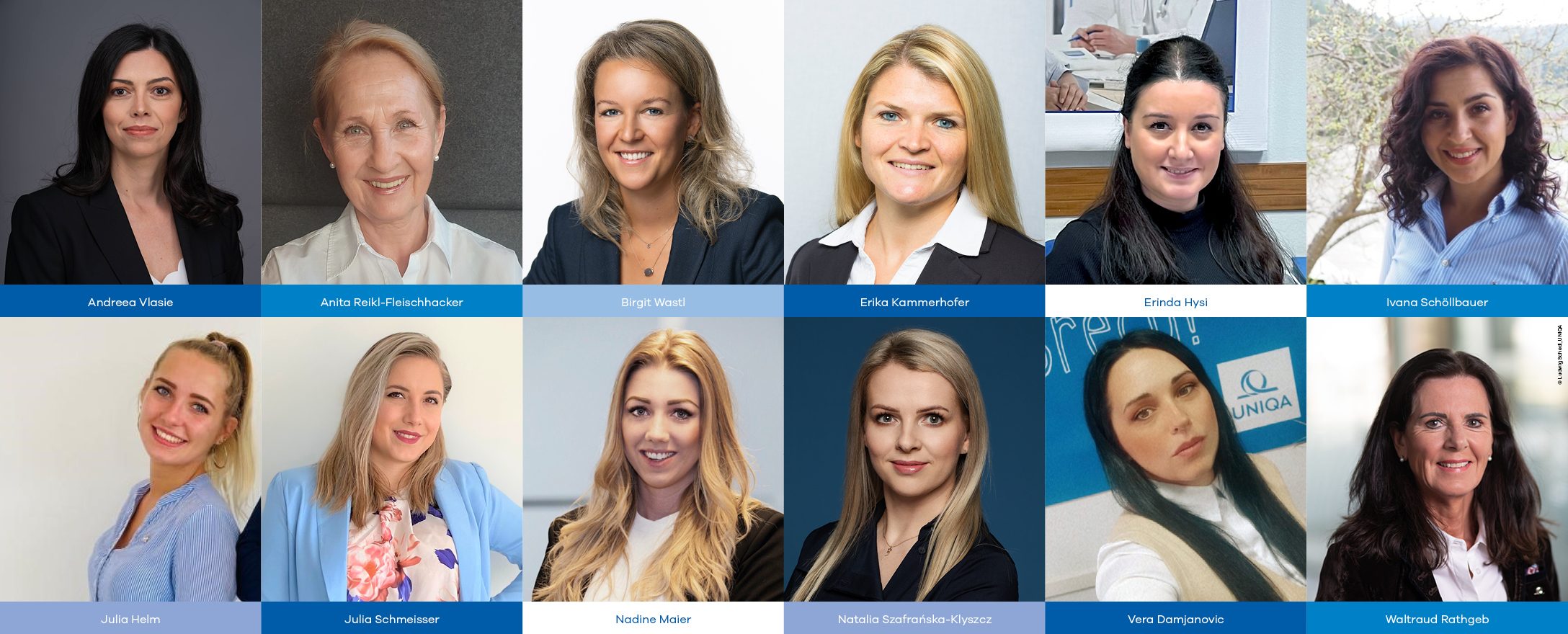 Cliché or reality?
Sales activities are still plagued by clichés: the prejudice that women are less suitable for sales persists. But do female salespeople actually have to work harder to get the same recognition as men?
Waltraud Rathgeb: 'At the beginning of my career it was very important to me to score points through performance. Perhaps I put myself under undue pressure at times. However, as a woman you were also observed more critically. Today it seems absolutely clear to me that women at UNIQA have the same acceptance as men in their areas of responsibility. Performance and dealing with people are in the foreground, regardless of whether it is a man or a woman.'
Birgit Wastl: 'No, not directly. Personally, I was always geared towards shaping my career path through my content-related competence and my personality without the need for regular comparison with others. This approach has also helped me personally to maintain objectivity in my career development.'
Vera Damjanović, Exclusive Distribution Channel Associate, Montenegro: 'As a woman who takes care of my family and daily chores and responsibilities, in addition to the work I do at the office, I often think that my work is not valued enough. In this case, my male colleagues are more privileged than me. I think that we still, when considering our plan for gender equality, have not developed enough awareness, namely that equality means the equal division of labour regardless of our gender.'
Erika Kammerhofer: 'Yes, that's how it is. Women are always expected to give 100%. For example, the pandemic period with home schooling was bad for me. Anyone who doesn't have children can't understand how strenuous those times were privately, while at the same time the workload at UNIQA increased excessively.'
Erinda Hysi, Private Health and Retail Insurance Manager, Albania: 'Honestly speaking, in my working environment (my department) there are no gender boundaries because this department has always been run by women, and most of my colleagues are women of all ages. We work more or less under the same conditions, on the same terms, in the same environment etc.'
Natalia Szafrańska-Klyszcz, Director of Dealer and Leasing Sales Development Department, Poland: 'I make a distinction here between the personal and the professional realms. Professionally, I don't have this feeling that I have to do more. It's a matter of choice, my attitude and my interests. I am good at what I do. And if I really care about something and I can't do it, I just want to learn it.'
Julia Schmeisser: 'Gender is not an issue for me in sales, and I also think it's important not to always reduce oneself to just one's gender. It is much more important to do the job properly and, ideally, to make the customer happy. In my first week a colleague said it was very difficult for a woman in this job. But for me it turned out that it's not enough just to be "male" to be successful: character and charisma are decisive factors.'
The key to success
The cliché that women do not have the necessary qualities for sales is one we can quickly dispel. On the contrary: Women enrich the sales landscape with their very own range of skills.
Birgit Wastl: 'The strength of women in sales certainly often lies in the areas of empathy and communication. Applying exactly these strengths, nothing stands in the way of a career in sales. Tip: Don't give up, actively shape your own path, and simply enjoy what you're doing.'
Andreea Vlasie, Bancassurance & Telesales Director, Romania: 'Women shouldn't fall into the trap of believing that stereotypically feminine traits aren't useful in management positions. Empathy towards other people is in general an asset for sales managers. So my advice is to show empathy.'
Waltraud Rathgeb: 'I assume that I pick up on moods and unspoken things. I'm one of those people who address things clearly and directly, which means you can quickly get to the core of the problem and then find solutions together. Treating everyone with respect and appreciation is a matter of course for me.'
Erika Kammerhofer: 'Women are better organised, have a high level of commitment and a lot of empathy; customers may perhaps speak more openly with a woman than with a man.'
Vera Damjanović: 'As a woman, in this business, I think that I have a great advantage over men, because most women have more patience and organise their time better. Women are generally more responsible in the jobs they perform, both at home and at work, and that is why there are more and more of them at companies like UNIQA.'
Anita Reikl-Fleischhacker, Sales Manager, LD Vienna: 'Women generally have more empathy and are diplomatic and solution-oriented – these are excellent qualities in sales.'
Ivana Schöllbauer, customer advisor, LD Lower Austria: 'Willpower and courage are strengths that help me to be successful. Willpower, because we ourselves are responsible for our successes. And if we want to achieve something and be successful, then it's in our hands. Courage, because everyone is afraid of making mistakes, but we must also be aware that we can learn a lot from mistakes.'
Daily motivators for women in sales
The 2021 employee survey revealed that female sales staff feel well integrated at UNIQA: As part of the inclusion index, the female sales force assessed the working environment at UNIQA highly positively, and our survey for this article also demonstrate that the daily motivators are great.
Julia Helm, Pension & Risk Advisor, LD Salzburg: 'I love being one of the few women who have chosen this profession. And I think it is because there are so few women in this industry that I do my best to be both heard and seen.'
Waltraud Rathgeb: 'I look forward to new challenges and their solutions every day. I particularly enjoy working with my teams and achieving great successes, as well as being in contact with employees and customers from different areas, and to learning something new every day.'
Andreea Vlasie: 'My adrenaline is the success: the bigger the challenges, the more stimulated I feel in my actions. Certainly, interacting with people is the part I enjoy the most in my work.'
Birgit Wastl: 'My personal incentive in my role is the challenge and opportunity to actively help shape the future of insurance sales.'
Erinda Hysi: 'For more than 12 years now, my job has been my main motivator. I am lucky to be doing a job that I like and that inspires me every day. Furthermore, I am motivated by my colleagues and by the company's vision. Each and every day we are faced with new challenges with the foremost aim to achieve only one goal: successful sales.'
Natalia Szafrańska-Klyszcz: 'I am lucky to work with a great team. They are people with ideas and a constant desire to develop. I am very grateful that I can learn from them, and together with them create this organisation that focuses on the customer and their needs.'
Diversity is king
The survey clearly shows that diversity in sales is of great importance to a company like UNIQA, and not just because of the existing shortage of skilled workers. Diversity is of particular benefit in sales teams.
Nadine Maier, Account Manager, LD Salzburg: 'In many companies, the management of the relationship between customers and companies is becoming increasingly important. The female employees have the greater sense of touch particularly in this area and convince with empathy and sensitivity in caring for regular customers and thus enrich sales enormously in the long term.'
Birgit Wastl: 'The diversity of our customers must also be reflected in the diversity of our sales. Only with sufficient diversity in a strong sales team will we be able to leverage our full potential on the market and fully ensure a customer-centric orientation.'
We are on the right track in Austria: Over 40 percent of our apprentices are female, and diversity in central sales is also a key topic for 2022.